BaseCamp 2023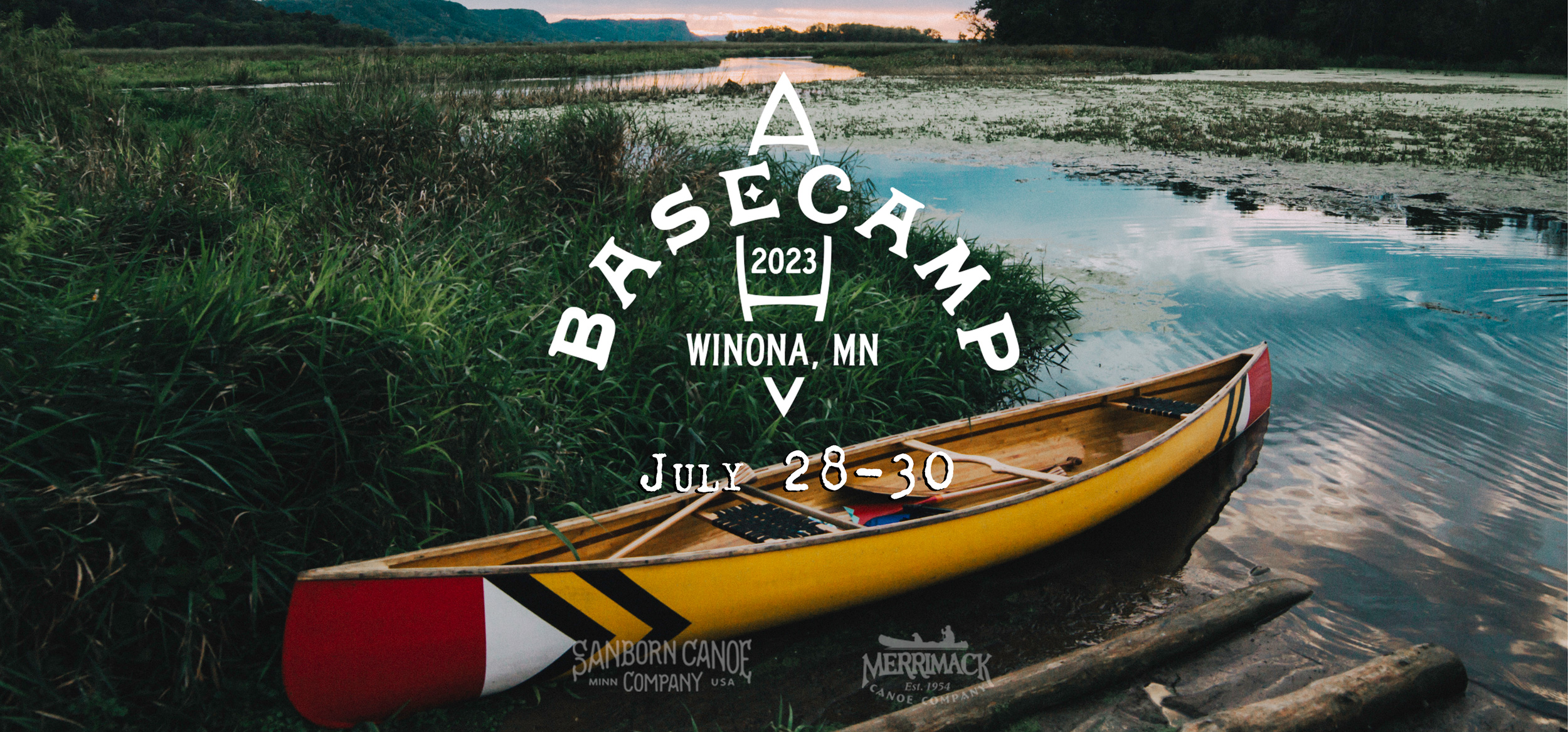 Come camp, explore, create, play, and relax with us at Prairie Island Campground in Winona, MN from Friday July 28th through Sunday July 30th. Purchase Tickets Here.
BaseCamp is an annual celebration of the outdoors, tight-knit communities, and good old-fashioned pride in craftsmanship and quality brought to you by Sanborn Canoe Co. We are putting together an outdoor recreation festival right on the banks of the Mississippi River. Our goal is to create a summer camp atmosphere with opportunities to explore the incredible Driftless Region around Winona, MN.
BaseCamp is a festival designed to not just entertain but to engage people, body and mind. There are activities planned to keep an entire family busy every moment of the weekend. These range from guided prairie hiking, to backwater paddling, to live music to round out each evening. In addition to opportunities to get on the trail or the water, we'll have classrooms set up to learn from experts, hear great stories, and try your own hands at outdoors inspired artwork. Beyond the planned activities, there are endless opportunities to join us for the community but still create your own adventure.
As lovers of the outdoors, we believe access is a right not a privilege. With this in mind, BaseCamp will be donating funds to improve access to paddling opportunities on the Mississippi River. In partnership with the Recreation Alliance of Winona, our goal is to raise funds towards installing an ADA dock at Prairie Island, the location of this years event. We're excited to have you join us in this goal.
A Festival Ticket ($20-25) includes:
Pop-up Market, food trucks, and spectating the Canoe Race
Live Music Saturday night
Community Presentations

Paddling, Boundary Waters Storytelling & trip planning, and more!

Community paddles, hikes, and yoga (Saturday only)

Sign-up to secure a space

Disc Golf Tournament
Camping ($30) includes:
Space for primitive camping 2-nights (note: Does not include a site with electric and water hook-ups for a camper. Reserve directly with Prairie Island Campground.)
Prairie Island Campground amenities include:
Campstore with snacks, firewood, bait, and apparel
Potable water spigots
Sandy Beach,outdoor shower, and Dock
Shower house with flushing toilets & pit toilets throughout the campground
2023 Paid Programs
Relief Cut Printing Class
In this workshop, students will learn the basics of relief carving and printing. In the printmaking process an image is carved in reverse onto a block, which is then inked and pressed onto paper. Participants will create limited edition prints of their own and learn the basic skills needed to continue their artistic practice beyond the classroom. All materials are provided and include a set of basic printmaking tools that participants will be able to take home with them.
The instructor for this clinic is Matt Wagner, a Winona, MN based artist and educator. His collection "Animals of the Driftless" was created using the same techniques being taught in this clinic. You can learn more about the artist and his art here.
Cost - $35 per person
Sanborn Painting Class
Here's your chance you paint your very own Sanborn artisan-painted cribbage board! In this clinic, students will learn the basics of how Sanborn products are painted. Participants will be shown the way layers of masking tape and spray paint can be used to create eye-catching designs. Students will create their own work of art to take home at the end of the weekend. The design is a unique creation by Abby Swim, one of Sanborn Canoe Co's talented painters. Choose from three color palettes to create your very own painted cribbage board.
The price includes guidance from the instructor, student's choice of a piece to paint, and materials. This is a great opportunity to create your own functional work of art.
Includes:
Cribbage Board - 3-track Ash cribbage board with peg pocket and magnetic cover. $45
Guided Canoe Paddle through the Sloughs of Pool 5A
In this advanced paddling experience, your group will be transported from Prairie Island Campground to launch below Lock & Dam 5 at Bass Camp Resort. After a brief moment in the main channel, we are paddling the calm forested backwater sloughs of the Upper Mississippi River, surrounded by one of the most diverse wildlife habitats in North America. We will stop at a sandbar along the way for a snack, then arrive 3-4 hours later, at McNally Landing just above Lock & Dam 5A.
$65 per person (normally $100). 8 canoes + 2 guides per group.
Recommend that children paddling with adults are at least 9 years old.
Transportation, guides, boats, PFD's, paddles, and snacks included.
Bring water and UV protection, and wear shoes that can get wet.
If you're interested in volunteering, click here.